The Early Years
| | | |
| --- | --- | --- |
| 1898 - Panhard et Levassor 'Americaine' | | 1901 - Toledo Model B Steamer |
Gordon Bennett Trophy - International competition was introduced in 1900 by an American, James Gordon Bennett. Further to his visit to the Paris-Rouen trial of 1894, he donated the above named trophy which was contested by national teams of no more than three cars; each team representing the manufacturers of their own countries.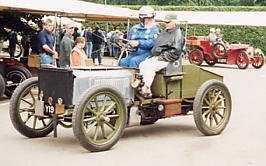 1902 - Napier Gordon Bennett 40hp, 6.5 litre
The first of these international motor race series was held in France in 1900 - from Paris to Lyons - and was organised by the Automobile Club de France [ACF]. The 1900 and 1901 races were won by Frenchmen, Fernand Charron and Leonce Girardot respectively, both driving Panhards. In 1902, Selwyn F. Edge, an Englishman, won the trophy driving a Napier which allowed the 1903 race to be run at Ballyshannon, Ireland. A Belgian, Camille Jenatzy, representing Germany won the 1903 race driving a Mercedes. Once again, the French won the 1904 and 1905 races, the winner for both being Léon Théry driving a Richard-Brasier.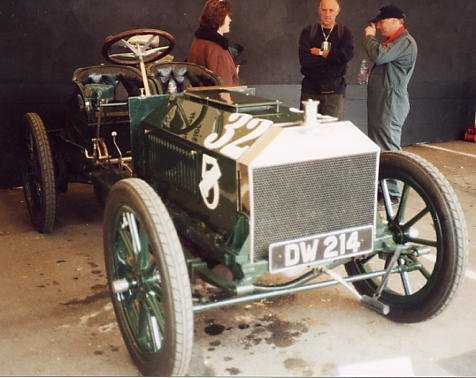 1903 - Napier Gordon Bennett 40hp, 7.8 litre
The last competition was held in 1905. At this time, the French objected to the rules and endeavoured to alter them because they felt that as they were the largest manufacturers, they should be entitled to more entries. However, the French received objections from the other countries. The French, therefore, organised the French Grand Prix [forerunner of the present Grand Prix series] and the Gordon Bennett Trophy lapsed.
| | | |
| --- | --- | --- |
| 1902-type - Renault Paris-Vienne Type K, 3.7 litre | 1903 - Mercedes 60, 9.2 litre | 1908 - Panhard et Levassor GP, 12.8 litre |

Vanderbilt Cup - This international race series was established in 1904 by William K. Vanderbilt Jr. This resulted in America being thrust into the mainstream of international racing.

Vanderbilt had previously made history when in April 1902 in France, driving a Mercedes gasoline-powered car, he reached 65.79 mph over a measured mile. Later in the year he drove a Mors to an official speed of 76.08 mph.

The first race was held in October 1904 around the New York and Long Island roads, a course of 28.44 miles. The competitors consisted of six French, five German, two Italian and five American cars. The race was won by American George Heath driving a Panhard at an average speed of 52.2 mph completing 284.4 miles. The fastest lap was set by Frenchman Georges Teste at a staggering speed of 70.9 mph.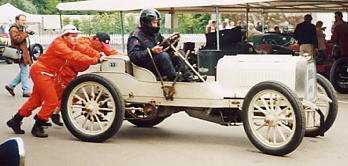 1904 - Pope Toledo, 6.1 litre
The overwhelming success of the last three years meant that there was difficulty with crowd control. In 1907, there was a failed attempt to move the race to New Jersey and unfortunately, the race was cancelled. However, Vanderbilt started construction of the Long Island Motor Parkway [private toll road] and eight miles were completed prior to the 1908 race. Together with 14 miles of the old course, the new circuit consisted of 23.46 miles [11 laps]. This was the first race to be won by an American, George Robertson, driving an American car.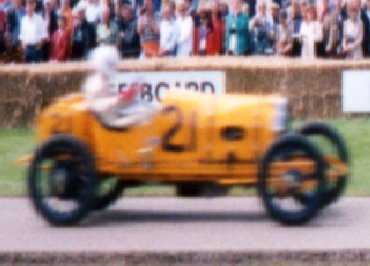 1914 - Mercer 450, 7.4 litre
With the introduction of the American Grand Prize races in 1908 and the 'politics' of the day, meant that from 1909 until 1916, the Vanderbilt Cup took second place.


Brooklands - Brooklands was the world's first motor racing circuit. It was built by Mr. Hugh Fortesque Locke King; a feat of private enterprise and cost in the region of £150,000. The official Opening Day was on Monday, 17th June, 1907. The total length, inclusive of the finished straight was 3.25 miles and the width was 100 feet; there were 2 massive banks of some 30 feet high.

The first official Car Meeting was held on 6th July, 1907 which consisted of six races. The Brooklands Automobile Racing Club [BARC] decided that this event had to be held similar to that of horse racing; this is where the term "Paddock" is derived. The drivers wore individual silk coloured smocks from 1908-1914 as it was thought vulgar to number each car. In the Whitsun of 1914, car colours were introduced and soon after the cars were numbered; large discs were fixed to the back of each car.

Brooklands was surrendered for military and aviation use for the duration of the First World War. Racing re-commenced with a new generation of driver. The first British Grand Prix was held here in August 1926 and organised by the British Automobile Racing Club [BARC]. It was won by Major Henry Segrave in a Talbot.

Many endurance record attempts were held here with great successes. Motor racing became extremely popular; it was available to the motor racing fraternity and also for viewing by the public.

The BARC held its last meeting on 7th August, 1939 when the Government requisitioned Brooklands for the duration of the Second World War. The changes were irreversible and very sadly, Brooklands was sold in 1949 to Vickers Ltd.
| | |
| --- | --- |
| 1911 - Fiat Grand Prix, 14 litre | 1912 - Bugatti Garros 'Black Bess', 5.2 litre |
| | | |
| --- | --- | --- |
| 1912 - Franklin Model D special, 5.1 litre | 1924 - Bucciali B6C24, 1.5 litre | 1924 - Curtiss Special, 8 litre |
| | |
| --- | --- |
| 1931 - Alfa Romeo 8C-2300 Zagato, 2.3 litre | 1933 - Napier Railton, 24 litre |
American Motor Sport
The automobile club called the Amercian Motor League was founded on 1st November, 1895. The first official race was held on 28th November, 1895 and was sponsored by the Chicago Times-Herald. There were six entrants comprising two electric and four petrol-powered. The race was won by J. Frank Duryea [drivers were accompanied by umpires] driving a 4hp Duryea Motor Wagon at an average speed of 6.6 mph! The second race was sponsored by Cosmopolitan Magazine and the third race, which was to have a strong influence in the future [1-mile dirt track used for horse racing], was held in September 1896 at the Narragansett Park, Rhode Island State Fair. The Vanderbilt Cup first ran in October 1904 [New York] and the American Grand Prize [Savannah, Georgia] in 1908, bringing exciting racing battles between the Americans and the Europeans.
Indianapolis - The city of Indianapolis was home to numerous car manufacturers. A group of businessmen headed by Carl Fisher, planned a new Speedway and in 1909, the Indianapolis Speedway was opened. The 2.5 mile track surface consisted of about 3.5 million bricks and it was and is still referred to as 'the Brickyard'. At the time it was thought a six-hour race would be the limit otherwise the spectators may become disinterested. Owing to the speeds of the day, this equated to approximately 500 miles. The qualifying rule to compete was for cars to average speeds in excess of 75 mph.
The first Indianapolis 500 race was held on 11th May, 1911 and was won by Ray Harroun driving his Marmon Wasp in a time of 6 hours 42 minutes 8 seconds, at an average speed of 74.602 mph. The sleek and distinctive design enabled the car to reach speeds in excess of 100 mph on the straight. Prior to the race, however, other drivers protested because the car did not carry a passenger to watch for oncoming traffic and Harroun resolved the matter by attaching a rear-view mirror.
Some early winners were:
1912 - Joe Dawson, National - 78.72 mph
1913 - Jules Groux - 78.72 mph
1914 - Rene Thomas, Delage
1915 - Ralph de Palma, Mercedes - 89.84 mph
1920 - Gaston Chevrolet, Chevrolet Frontenac Monroe Special
1921 - Tommy Milton, Chevrolet Frontenac-8
1922 - Jimmy Murphy, Duesenberg-Miller - 94.48 mph
1923 - Tommy Milton, HCS Miller Special
1925 - Peter de Paolo, Duesenberg - 101.13 mph [4 hours 56 minutes 39 seconds]
1930 - Billy Arnold, Miller-Hantz Special - 100.448 mph
A self-taught machinist, Harry Miller, assisted by designer Leo Goosens and Fred Offenhauser, made such an impact with their engines winning seven consecutive Indy 500's from 1928 and again in 1936 and 1938. The Miller-Goosen engine, later known as the Offenhauser, dominated oval racing from 1930 for more than thirty years. All this was to change when in 1961, Jack Brabham driving John Cooper's "rear-engined" Cooper Climax finished 9th. This revolution in the early 1960's meant that the front-engined car soon became history. In 1965, the race was won by Jim Clark driving a Lotus-Ford.
| | | |
| --- | --- | --- |
| 1946 - Kurtis Kraft Novi 'Governor Special', 3 litre | 1950 - Kurtis Kraft 'Cummins Diesel Special', 6.6 litre | 1952 - Kurtis Cummins Diesel Special, 6.5 litre |
| | | |
| --- | --- | --- |
| 1959 - Watson-Offenhauser Leader Card 500 roadster, 4.2 litre | 1963 - Watson-Offenhauser Agajanian Willard Battery Spl, 4.2 litre | 1994 - Penske-Mercedes Marlboro PC23, 3.4 litre |

NASCAR - The National Association of Stock Car Auto Racing was founded by Bill France in 1947. The origins of stock car racing was on dirt tracks; a very popular and exciting form of racing in America attracting large numbers of spectators. Qualifying cars must be sedans; the car is reinforced inside with heavy steel tubing. The early speedways measured 0.5 miles tracks with very tight turns increasing to 1 mile and 2.5 miles superspeedways. The straights and banks can vary from 5° up to 36°. The multi-race series is the Winston Cup for late model sedans; the blue-riband event is the Daytona 500, it's inaugural was run in 1959. There are four tracks that are considered more important than any other - Charlotte [600], Darlington, Daytona [500] and Talladega.
| | | |
| --- | --- | --- |
| 1927 - Ford 'Barney Navarro' roadster, 3.9 litre | 1939 - Chevrolet TC coupe, 3.8 litre | 1949 - So Cal drop-tank, 4.7 litre |
| | | |
| --- | --- | --- |
| 1950 - Tom Beatty drop-tank | 1963 - Chevrolet Impala 'Myster', 7 litre | 1965 - McLaren Elva-Oldsmobile M1A, 5.7 litre |
| | | |
| --- | --- | --- |
| 1967 - Holman & Moody - Ford Honker II, 6.2 litre | 1969 - McLaren-Chevrolet M8B, 7.5 litre | 1969 - Dodge Charger Daytona, 7 litre |
| | | |
| --- | --- | --- |
| 1970 - McLaren-Chevrolet M8D, 8.2 litre | 1970 - McLaren-Cosworth/Ford M14A, 3 litre | 1983 - Buick Regal, 5.7 litre |
Ford Saloon Car Championship
The Ford Saloon Car Championship was introduced in 1990 for eager Ford Saloon Car competitiors whose aim was to race solely against other Ford racing saloon cars.
The 2000 Ford Saloon Car Championship
CALENDAR
| | | | | |
| --- | --- | --- | --- | --- |
| | | | | |
| 1 | March 19 | | | Brands Hatch |
| 2 | April 2 | | | Brands Hatch |
| 3 | April 24 | | | Castle Combe |
| 4 | May 7 | | | Snetterton |
| 5/6 | May 20/21 | | | Anglesey |
| 7 | June 4 | | | Cadwell Park |
| 8 | June 10/11 | | | Lydden Hill |
| 10 | July 30 | | | Snetterton |
| 11 | August 6 | | | Cadwell Park |
| 12 | August 28 | | | Snetterton |
| 13/14 | September 30/October 1 | | | Silverstone |
| 15 | October 15 | | | Brands Hatch |
For further information on all aspects of the "2001 Ford Saloon Car Championship", please contact Mike Webb Motor Sport
Copyright © 2000 Newmans Cars
---